Love animals? Want a rewarding challenge? Come and volunteer with me at Cyprus Pride House!
Download the Volunteer Agreement Form: PDF | Word | Open Document Text
What I Require From You
Volunteering is really hard work – IT IS NOT A HOLIDAY. This needs to be said right at the start – I need special people to give the animals what they need and have a dedication to my rescue. The needs of the animals come first and everything I do revolves around their care and well-being.
Are you:
Healthy, energetic, honest, hard-working and organised.
An animal lover with a passion for animals.
A non-smoker.
Able to work on own initiative, being responsible and dedicated to duties. People with animal experience and knowledge are preferred – however, I will give you full training on the work and the standards required.
Able to carry out tasks to the best of your ability and ask for help when needed.
Able to stay at least two weeks – it takes a few days to learn what is needed, so two weeks helps me best.
Daily Duties
Cleaning up after the pets, including the kennels and cattery.
Feeding.
Walking dogs in the tranquil countryside.
Interaction, cuddling and play – our pets really benefit from love and attention.
General maintenance.
Hours of Work
Hours can vary. This is a guideline only, as it depends on what animals are here at the time and their individual needs:
7.30 am to 11 am
4 pm to 6 pm
9 pm to 10 pm
What We Provide
Non-smoking accommodation here in my home at Cyprus Pride House.
Training and experience. If you are looking for a career in animal welfare, volunteering at my rescue is an excellent way to learn hands-on what it really involves.
A warm welcome! Your time and effort are appreciated and we will support and value it.
What You Need to Organise
Arrange and pay for your flight to Cyprus (I can pick you up and drop you off at the airport if the petrol costs are met).
Money for your food, drink and general spending.
Location
We live in the Troodos Mountains, Cyprus, where it is peaceful and tranquil. There is a village nearby, as well as a supermarket, places to eat and wineries. The main town is a 45-minute drive away.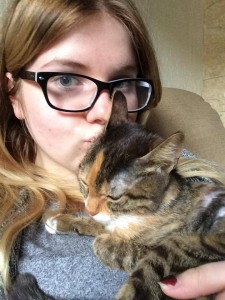 "Working for Cyprus Pride House – this is probably one of the hardest things I've willingly done; however, one of the most rewarding. If you have a passion for animals then this is the place for you. Although challenging, building a friendship with the animals was what made it worth it. You'll notice that each cat and dog has a different personality and you'll fall in love with every one of them, I certainly did. I'm never going to forget my time at the shelter and I'll always cherish the memories I made with the animals. If you're up for a challenge and willing to put the animals first then I fully recommend you plan your volunteer visit today!" – Josie Arnold, CPH volunteer.
If you love animals and would like a challenging, but rewarding experience, get in touch – we'd love your help.