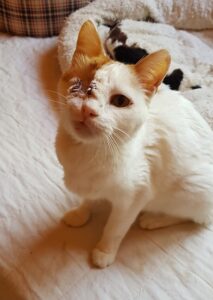 Added: 16 July 2021
High Priority
View all pets to adopt
Verona
Needs a forever home
---
About Verona
DOB:  03/20
Such a sweet, sensitive little girl that deserves the best home.  Possibly with another cat as she does get on well with other cats but as long as she gets lots of attention.  She had a small lump on her lower eye lid which had to be removed. Biopsy confirmed a tumor but not a spreadable one so they had to take a lot of area to make sure no cancerous cells were left behind, which meant she lost her eye too but it has not bothered her at all.  Due to this she needs to be a permanent indoor cat.  In these pictures she is still healing from her operation.
When we found her she was heavily pregnant and gave birth to 4 beautiful ginger boys all secured their homes in the UK.  Now it is her turn.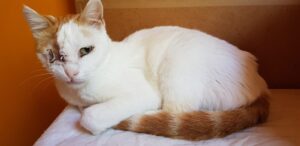 First time adopting with us?
Welcome! You'll need to fill out an Adoption Form and be approved before you can adopt
Adopted with us already?
Great! We appreciate your continued help. Please let us know you have an interest in adopting