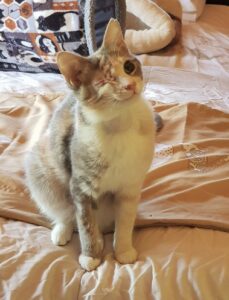 View all pets to adopt
Skyla
Needs a forever home
Dog Friendly
Cat Friendly
Kid Friendly
---
About Skyla
DOB: 05/20
Very affectionate, cuddly, lap cat.  Needs a home with another kitty to be friends with.  She had bad eye infection when younger which destroyed both eyes.  One eye will be removed and socket stitched up. The other is totally healed but badly scarred so she can probably only see shadows/lights so must be a permanent indoor kitty with lots of one to one and love.  In these pictures the one eye has not been operated on yet but will be done before going to a new home.
First time adopting with us?
Welcome! You'll need to fill out an Adoption Form and be approved before you can adopt
Adopted with us already?
Great! We appreciate your continued help. Please let us know you have an interest in adopting